Waddesdon Manor
Located 15 minutes by road from Hartwell House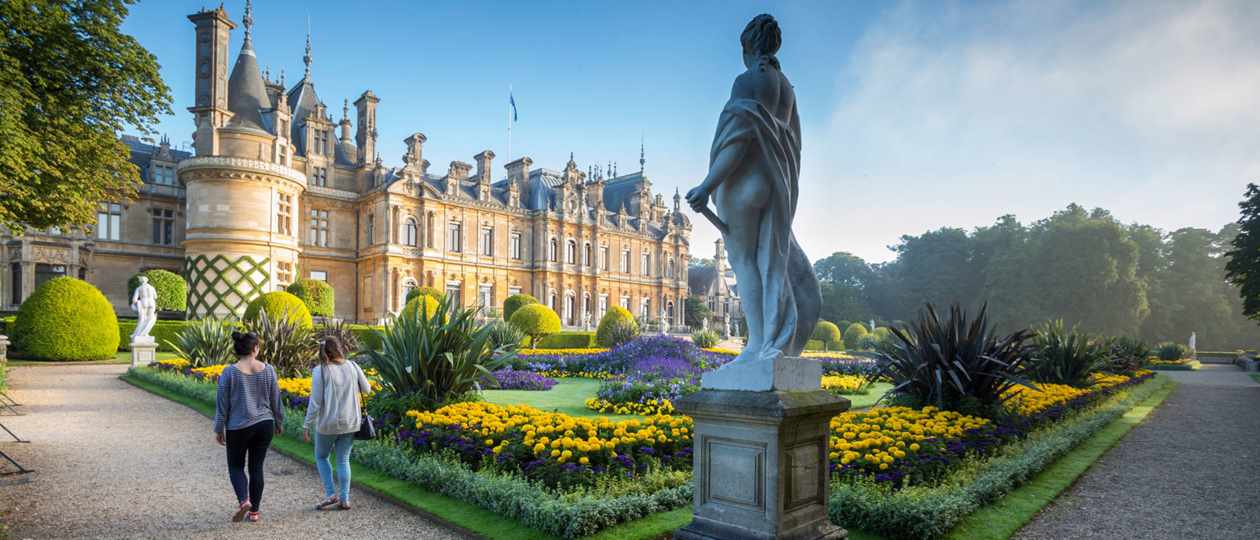 Waddesdon Manor, a French Renaissance-style château, was built by Baron Ferdinand de Rothschild in the 1870s to entertain his guests and display his collection of art treasures. It houses one of the finest collections of French 18th century decorative arts and British portraiture and has been owned by the National Trust since 1957.
Set in 5,000 acres of rolling parkland, Waddesdon has one of the finest examples of a late Victorian garden in Britain. Famed for colourful bedding, the gardens are full of variety throughout the year. Visitors can enjoy formal gardens, woodland walks, a Parterre and 3D bedding plant sculptures, hear rare birds call from the ornate Aviary or take a tour of the impressive garden statuary.
Waddesdon and Hartwell - two magnificent country houses, linked by history, ownership, landscape and architectural distinction
More than proximity and a shared connection to the National Trust connect Waddesdon Manor and Hartwell House. Both have great traditions of entertaining at their heart and both have French connections, Waddesdon through the international Rothschild family and superb French art collections, Hartwell through its most famous resident, Louis XVIII, who lived there in his exile from France. Only eight miles apart, they are more than the sum of their parts and deserve to be seen together.
Rothschild collections
As a family, the Rothschilds were the greatest collectors of the 19th century, seeking the highest quality of workmanship and with a keen sense of historical importance. The houses that they built, the interiors they created and the magnificent Rothschild collections within them are known as the 'goût Rothschild'. Waddesdon is one of the rare survivors of that splendour.
Today, the collection continues to grow through the patronage of the Rothschild Foundation, who manage Waddesdon on behalf of the National Trust. Additions include several superb paintings by Chardin, Callet and Lajoue, a magnificent silver dinner service made for George III and a large collection of Sèvres porcelain sculpture. Significant pieces of contemporary art can be seen in the garden and at Windmill Hill. There is a changing programme of special exhibitions each summer.
Rothschild Wines
The Manor possesses an outstanding collection of wines. The cellars housing a private collection of 13,000 bottles are open Wednesday -Sunday and offer free talks at 11.30am and 2pm each day. The Manor's wine shop holds the largest collection of Rothschild wines in the world. These wines are from two of the most famous Bordeaux vineyards, Château Lafite Rothschild and Château Mouton Rothschild. With expert advice and wine-tasting in the manor shop daily and tutored tastings and wine dinners throughout the year, this is a destination for wine lovers or those who wish to learn more.
Visiting Waddesdon
Open Wednesday to Sunday 10am -5pm, National Trust members have free admission. There are special events throughout the year, some with different opening times and event prices, like Waddesdon Uncorked (June), SummerFest (July), ChilliFest (Sept) and Christmas (Nov-Jan) – see What's On for details.